Compression therapy in peripheral artery disease: a literature review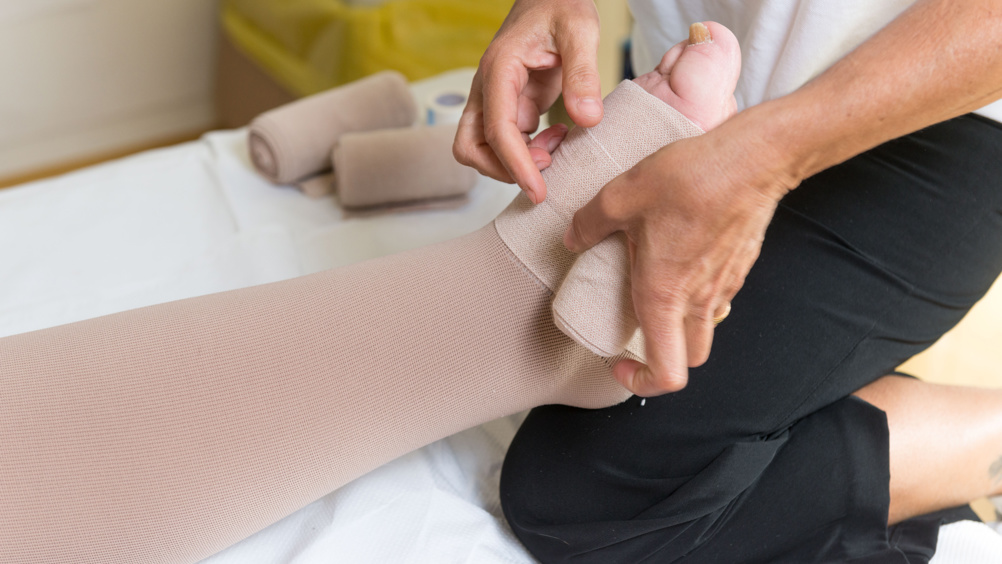 Abstract
Objective:
Our objective is to examine the pathophysiology of oedema in the ischaemic and post-revascularised limb, compare compression stockings to pneumatic compression devices, and summarise compression regimens in patients with severe peripheral artery disease (PAD) without revascularisation, after revascularisation, and in mixed arterial and venous disease.
Method:
A scoping literature review of the aforementioned topics was carried out using PubMed.
Results:
Compression therapy has been shown to increase blood flow and aid in wound healing through a variety of mechanisms. Several studies suggest that intermittent pneumatic compression (IPC) devices can be used to treat critical limb ischaemia in patients without surgical options. Additionally, compression stockings may have a role in preventing oedema after peripheral artery bypass surgery, thereby diminishing pain and reducing the risk of surgical wound dehiscence.
Conclusion:
Oedema may occur in the ischaemic limb after revascularisation surgery, as well as in combination with venous disease. Clinicians should not fear using compression therapy in PAD.
Both peripheral artery disease (PAD) and lymphoedema are common conditions seen in clinical practice. It is estimated that >12 million Americans have PAD.1 While primary lymphoedema is rare, affecting 1 in 100,000 individuals, secondary lymphoedema is quite common, affecting approximately 1 in 1000 Americans.2 The most common secondary causes of lymphoedema include chronic venous insufficiency (CVI), malignancy and treatmentrelated to malignancy.2,3 However, abnormal lymphatic anatomy and reduced lymphatic function have also been identified in patients with PAD.4 Treating lymphoedema in PAD is essential to maintaining quality of life (QoL) as peripheral oedema increases intracompartmental pressure and may exacerbate ischaemia-related pain, making pain management challenging. Moreover, significant oedema may lead to lymphorrhoea, burning, pruritus, maceration and skin breakdown.
Lymphatic dysfunction also contributes to immunocompromise and an inability to mount a proper response against pathogens, thereby increasing the risk of soft tissue infection.
Register now to continue reading
Thank you for visiting Wound Care Professional and reading some of our peer-reviewed resources for wound care professionals. To read more, please register today. You'll enjoy the following great benefits:
What's included
Access to clinical or professional articles

New content and clinical updates each month